Welcome to Gorilla Materials, Inc.
The rising cost of landfills for construction, demolition, and land clearing debris triggered the need for an alternative means of disposing of concrete from construction and demolition operations. Prior to environmental awareness, rubbles were massively disposed in landfills. With more awareness about the environment, concrete recycling allows reuse of rubbles which in turn drastically lowers construction costs.
Gorilla Materials, Inc. specializes in concrete and asphalt recycling. The majority of our work comes from demolition and reconstruction projects. The process involves taking the recovered concrete, brick, rock or asphalt and crushing or grinding it into reusable product. This reusable product can be sized according to your needs such as ABC, crush and run or #57 stone.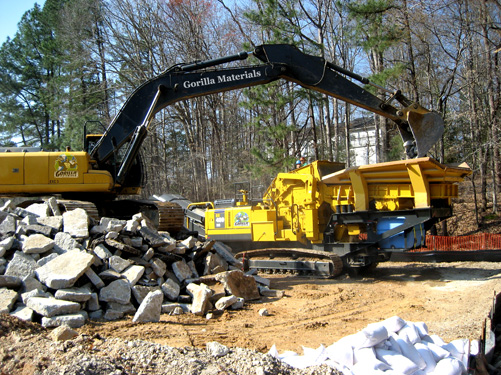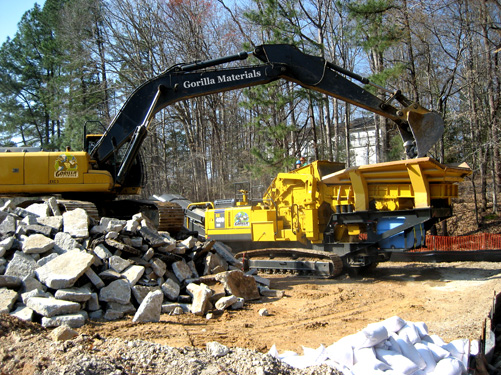 Cost Savings
Landfill and transportation costs for construction, land-clearing and demolition debris and rubble are continuing to rise. We offer a cost-effective alternative method for the disposal of your covered and discarded concrete, asphalt and old brick. 
Environmentally Friendly
Recycling concrete immensely saves energy as opposed to mining, processing and transporting new aggregates. Although it is not considered environmentally damaging, large volumes of concrete accumulated from demolition makes it difficult for landfills to accommodate.
Concrete Recycling
The process of recycling of concrete involves breaking, removing and crushing concrete from pavement and structures into a product having a specified size and quality. The whole process can be done on site saving money on trucking, landfill costs, and new product purchases.
The advantage of this process is that it savces you money and achieves an environmentally sound solution. Count on Gorilla Materials, Inc. to recycle your recovered and discarded concrete, brick or asphalt. This will ease your budget and reduce the hassle of converting your piles of concrete to something useful.
If you have a pile of useless concrete, brick or asphalt, we can convert it to something you can use and save you money in the process.
Gorilla Materials, Inc., is committed to the processing of these materials, keeping them out of typical landfills or "stump dumps." We are doing more and more with the municipalities for Orange and Durham counties, as well as Duke University and University of Chapel Hill.